2015 was a really good year for me, but it didn't start out that way. The first two months it either rained, or was overcast, and it prevented the Mason bees from hatching. Normally we have a warm period in the early part of the year with some partly cloudy skies. So the Mason's come out with the sun, the big yellow ball gets covered by clouds, and the bee's metabolism tanks -it's as if nature flicked a switch and they are stationary. Great conditions if you're a macro photographer trying to get close to an otherwise skittish subject. But for the last three years a lot of solitary bees have been skipping the first two months of the year only to emerge in March when there isn't a cloud to be found. So when I discovered some Mason bees hatching out of a tree in my yard I camped out in front of it for several hours trying to get them acclimated to me. We played a lot of "beekaboo"...
I even set up a solitary bee house and managed a few shots of a female Mason bee as she was about to start her day.
The weather was mild through April and May and I found a Wool Carder bee sleeping in my lavender.
I was determined to push the limits of what I could do with the subjects that I photograph, so as it woke up I held the lavender close to another flower that I had fastened in a clamp and to my surprise the bee climbed right onto it.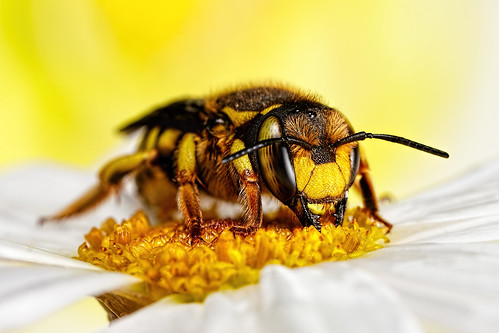 It would even occasionally go back to sleep.
From June through August the weather was hot and humid, and just about everything was hyperactive before the sun came up. I had to find a way to take photographs in the heat of the day, and one way to get the critters to let me get close is to bait them. I used a mix of sugar and water, but ended up adding a little artificial nectar mix to the syrup because they seemed to like it better. They won't always let me get close, and sometimes it takes a lot of effort to get an image out of my mind and into the camera. But patience pays off...
I have a triangle in my head and at each point there is composition and technique, lighting, and post processing. If I feel like one of those three is getting weak in comparison to the other two then I spin that point to the top and work on it. Sometimes improving on one aspect forces me to make changes to another (like when I change my lighting I have to change my post processing to take advantage of it). For 2016 I'm going to keep spinning that triangle, and keep pushing the limits of what I can to with the gear and the subjects. But most of all I'm going to continue to have fun :)